Baba Olatunji's 75th Birthday Party
Baba Olatunji had a great time at his birthday party in April 2002. About 250 people gathered at a private home in Mountain View, CA for an event that featured live performances to raise funds for Baba's ever-increasing medical costs.

His physical frailty was apparent as he came out on the raised patio that served as a stage. He was accompanied by solicitous companions, who at times supported him as he moved slowly toward the drums. He tentatively picked up a beater, then for a long moment he stared out at the community, sitting on the lawn on blankets or folding chairs. Suddenly the frailty dropped away, and Baba looked like the powerful elder he is.


He hammered a note on the drum with surprising force, then produced a strangely disconnected series of beats. Disconnected for me, that is: as the other drummers joined in, I realized Baba had defined a rich rhythm with very few notes.


His singing voice, though clearly the voice of an elderly man, somehow retains its compelling power.

The party began when the Master of Ceremonies, Arthur Hull, dashed up from the lawn and took the stage. The community responded with polite applause, which Hull captured and turned into a rhythm. He began working his circle facilitation skills, quickly splitting us into 3 groups clapping out different patterns within the rhythm.


From the outset, we were not an audience, but an instant community.


Baba and his companions played and sang the first set of songs with the World Harmony Chorus, including the early song Akiwowo. From then on, Baba sat regally in a chair on the stage wings, but rose to dance or play or sing whenever he chose.

Gordy Ryan took a break from his jun-jun and bell, to join Bruce Langhorne in an emotional song for peace.


Then they led us in a round of Happy Birthday.

| | |
| --- | --- |
| | As we sang Happy Birthday, Baba was ambushed by a monsterous birthday cake, topped by a bonfire of candles. His lungs seem to be okay; he mastered the candles! |

The local ensemble Melanje then took the stage for Haitian drumming and voice. They were followed by music and dance from Zimbabwe, performed by Julia Chigamba and Chinyakare.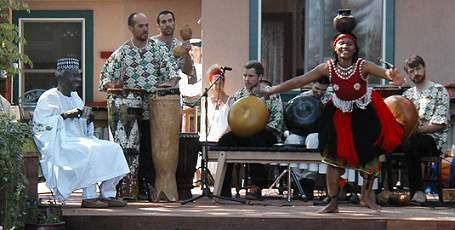 | | |
| --- | --- |
| Baba was surprised during this set, as Joan Baez came onstage to dance along with Ms. Chigamba. Ms. Baez remained on stage to lead the community in singing Amazing Grace. | |
Baba sometimes rose between sets to remind the community about his life-long message.


He spoke eloquently on themes familiar to all who know his work. "Love is the greatest emotion in the world," he exclaimed repeatedly, "the only thing left to save our planet from impending catastrophe."


He reminded us that we have "a responsibility to corrupt the rest of the world—with our drums!" He urged us to practice "indiscriminate love," and, drawing on his full authority, he shouted at us, 'If anything you're doing is not beneficial to others, quit right now!"


Baba's conjuration was reinforced by Professor Akiwowo, who led us in Nigerian call-and-response invocations to connect us all with each other and The World.

Finally Baba gave the call for Drums of Passion.


The dancing began with a fire-dancer.

| | |
| --- | --- |
| | The community danced, clapped, and played body percussion. It's no stretch to say that now all of us have played with Baba Olatunji. |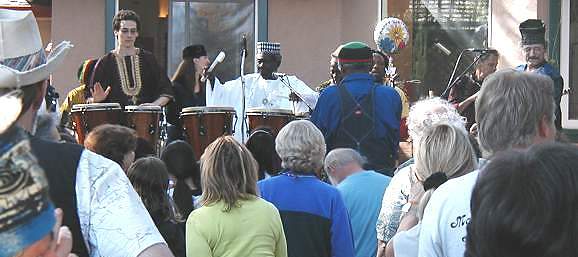 But the man is implacable. At the end of the last song, Baba announced another, then another, and then a fourth. Finally Arthur Hull was forced to conspire with a group of women who pulled Baba away from his drums to dance on the lawn. The other drummers were finally able to bring the extended party to a close at last.

Baba passed on, the morning of April 6, 2003. in a hospital near Esalen, California. He is survived by family, friends, and countless drummers and dancers around the world, who owe him more than words can express. Only our drums and feet can express it, and so we will.

Hear some of Baba's music.